KAXYUYA Professional Anti Spy Detector Bug Detector
Do you feel distrust of the surrounding environment?
You deserve to know if anyone is listening or watching when you're expecting privacy. The news is currently flooded with examples of hidden cameras and other recording devices lurking in public restrooms, changing rooms, vacation rentals, and other locations where one would normally expect complete privacy. Don't fall victim to these hidden surveillance devices.
Take back control of your environment with the comprehensive Professional anti-spy RF Detector.The perfect counter to surveillance cameras, listening devices, GPS trackers, and cell phone trackers, this professional-grade counter surveillance device has everything you need to protect privacy and security.
The RF Signal Recording Function has been added to this Spy Bug Detector. This function can help you find spy devices that send intermittent signals. Like GPS trackers, cameras for candid shooting, wireless recorders, etc., they are designed to send out signals at certain or uncertain intervals. The purpose is to make it extremely difficult for you to find them when using the RF signal detection function. Using the RF signal recording function can help you Determine whether these spy devices exist around you.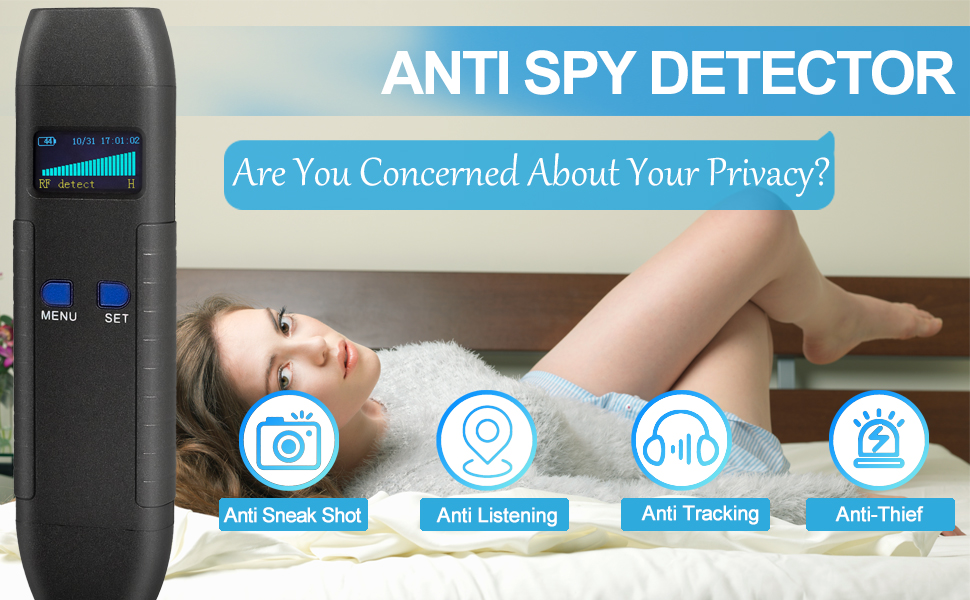 What bugging devices the bug detector can detect
Detect hidden Cameras, WiFi Cameras, IP Cameras, Miniature Cameras, GPS Trackers,Mobile Phone Wiretaps, and more spy bugs.

Detect active wireless wiretap on the landline phone or cellular phone, Active wireless eavesdroppers.

Detects bugging devices working on GSM/CDMA/2G/3G/4G signals, or through WiFi or Bluetooth networks.

Detects illegal wireless Audio Bugs/Eavesdropping Transmitters/GSM Microphone Transmitters, Body Wires, Wiretaps.

Detect active GPS trackers, magnetic GPS trackers turned on or off.
RF Wireless Signal Detection & RF signal recording function

In RF wireless detection mode, it can detect equipment emitting radio frequency signal with antenna, such as wireless surveillance cameras, tracking device, SIM card (2G, 3G, 4G) bugs, GSM listening device.

The RF Signal Recording Function can record the number of suspicious signals detected, as well as the time and intensity of each signal.

Magnetic Field Signal Detection

In magnetic field detection mode, GPS Tracker detector able to detect magnetic suction positioner and bug, standby magnetic locator and GPS tracker with magnetic field probe.It can also detect intense radio signals radiation around environments, whether there is strong.

Laser Scanning Camera Lens Finder

LED lights will illuminate the hidden cameras, The special tinted View Finder will easily catch the reflected lights bounce back from the camera lens which will form a red light spot. The LED lights will Can help you find the invisible wired or wireless camera, including hidden camera, spy camera, wifi camera, pinhole camera, ip camera, etc.
Shake Sensing Function

Tie it to the doorknob or place it on the floor behind the door. When shake is sensed, it wil give an alarm. This prevents the Thief from entering the room while you are resting.

Flashlight auxiliary lighting function

It can be used for lighting in the dark, or for lighting nooks and crannies.

Automatic Infrared Detection

This automatic infrared detector can scan automatically the infrared devices in the dark. such as infrared hidden camera devices at night.

Notes: If you turn on this infrared detection function during the day, the device will always alarm because there are infrared rays in natural light during the day.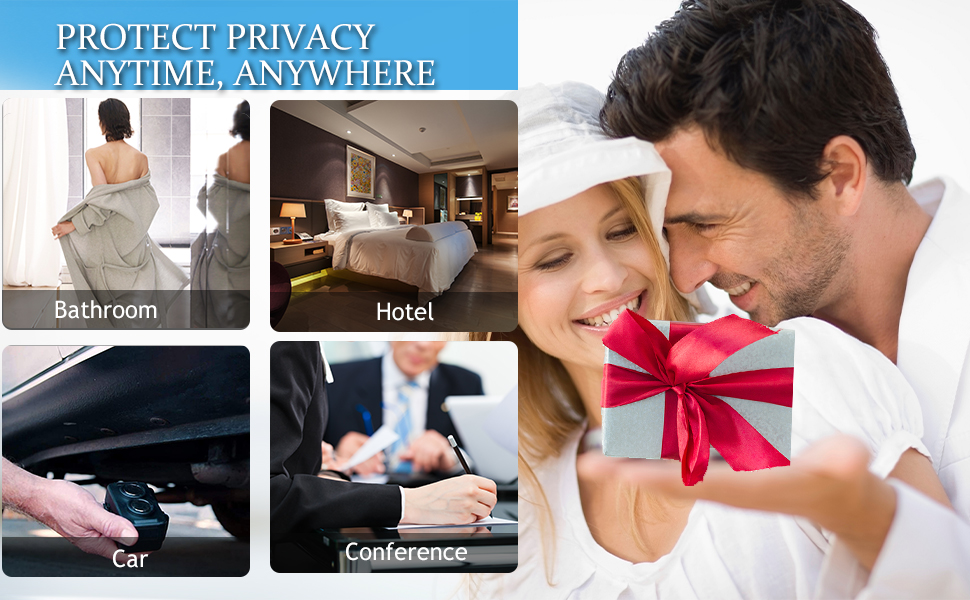 We are extremely committed to our customers:
Living in a chaotic world, full of monitoring and tracking devices, protecting your privacy is our top priority. Bug finder is the best solution to protect your personal privacy and business safety!
If you don't fall in love with our Anti Spy Detector the moment you open the packaging, we promise you can return it. We then back that up with a 2 Year satisfaction (defect, accidental damage, non-satisfaction).
If you have any questions about our products, please feel free to let us know. Emails will be returned within 4-12 hours. We will solve your problem 100%. Let us hear your voice.